Successful Shed Door Replacement
Replace Your Shed Doors, Not Your Shed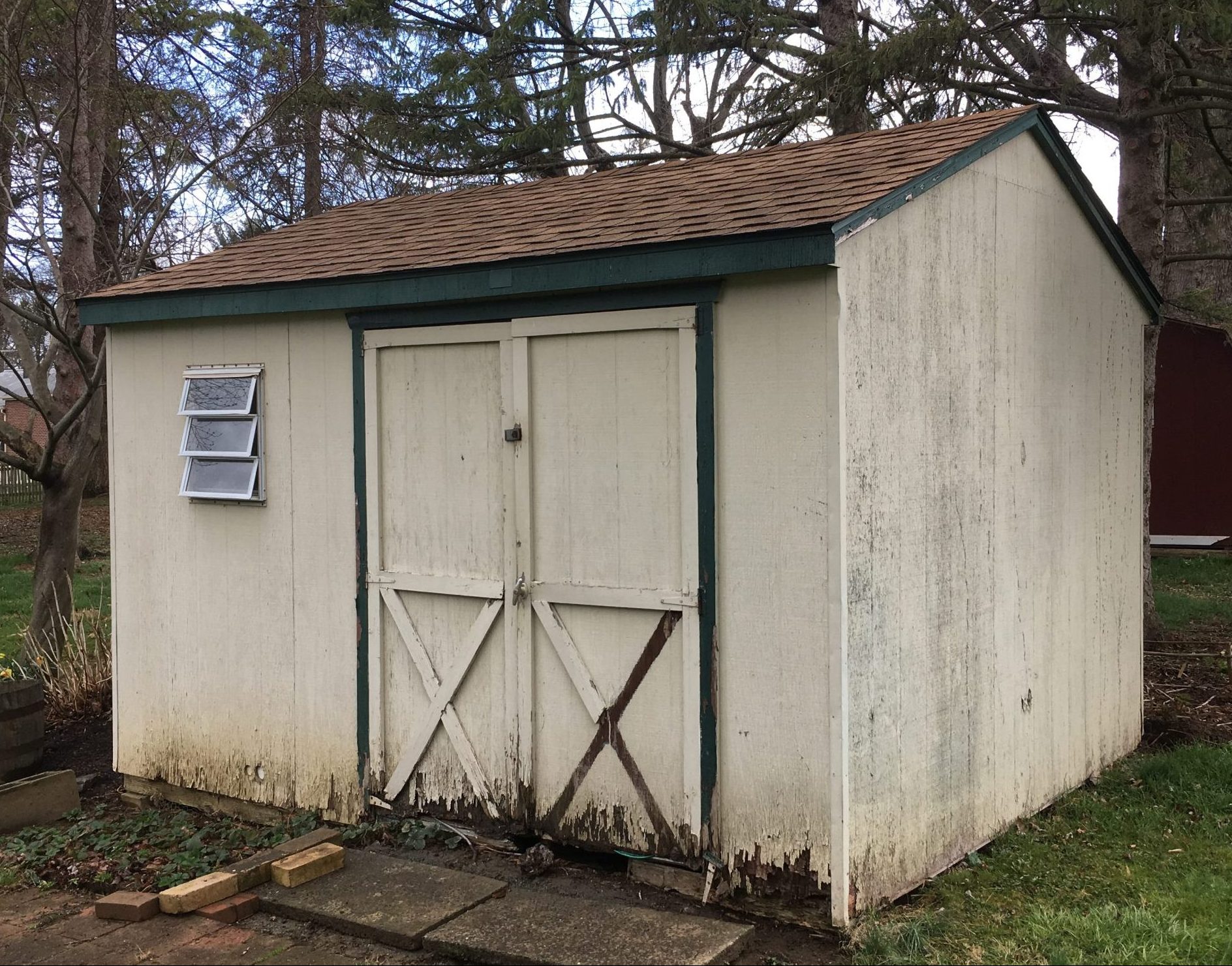 Day after day, month after month, and year after your shed has kept your belongings safe. Some of life's biggest purchases are kept in your shed. Whether that is a lawnmower, woodworking tools, or your motorcycle in the off-season. Your shed does it all with great ease (and barely a complaint minus that squeaky door hinge). Since your shed has been such a workhorse, it is beginning to show some serious signs of the use you have put it through. Mainly the doorway to your enjoyment is showing its wear.
The wear and tear on your shed have you thinking: " Do I really have to buy a new shed? I'm pretty sure all I need to do is replace the doors. Everything else is in great shape!". Go no further! Replacement Shed Doors are exactly what you are looking for. Trying to replace your shed doors can feel like a daunting task. Let us walk you through the process of replacing your shed doors in this how-to tutorial!
Pause and Plan | Don't Panic and Run!
We know that replacing your shed doors may feel a bit out of your comfort zone. We know everyone is going to see this and so you want it to look professional. Let us start with what you are going to need to get started.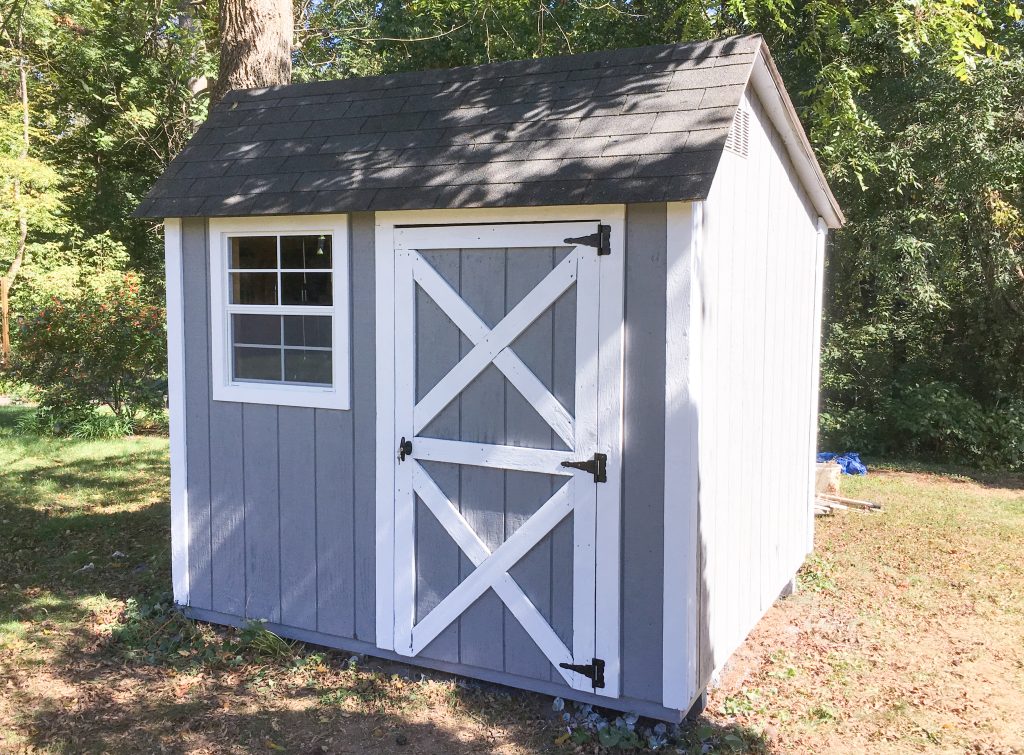 Can I Replace The Shed Doors Myself?
If you are reading this blog, likely you are at least interested in trying to do it yourself. Regardless, here are the three basic options you have.
Get a contractor to come out and do it all: This will likely be the easiest (and most expensive) option for you.
Get a Shed Repair specialist to install it: In most cases this is going to be the best solution, because a company that specializes in Shed Repair, is super convenient and will not be as expensive as hiring a contractor who does not do these types of jobs every day. If you are in the Northeast (Pennsylvania, New York, New Jersey, Delaware, or Maryland), then Shed Repair will be happy to provide you with a full service quote.
Do it yourself: yes doing the shed door replacement yourself is totally possible. It will however, require some basic familiarity with basic tools and a basic understanding of working with wood.
How much will replacing my shed door cost me?
When you replace anything you want to make sure that you are making a wise financial decision. When looking to purchase your replacement shed doors we have options for a variety of budgets. Contact us for a free quote today on replacement shed doors or other replacement items for your shed.
If you buy the doors and install yourself, you will be able to save a little more money. Check out our shed door shop for an estimate on what the job will cost if you do the job yourself.
Tools of the trade (For the DIY Job)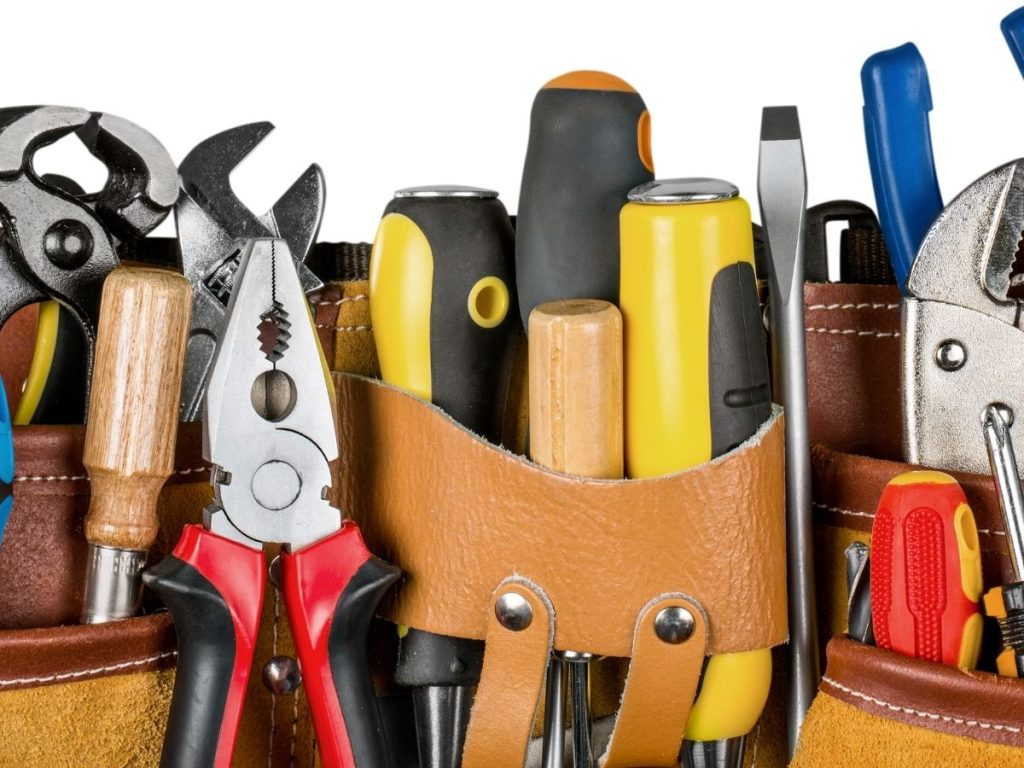 No matter if you are a carpenter by trade or a woodworking enthusiast, we want replacing your shed doors to be as easy as possible. So we have compiled a list of what you will need to make this project a success:
Tape Measure
Measure twice cut once. It is not only an old adage but something that will make your project much easier. Make sure that the tape measure you use is capable of measuring more than 5 feet linear feet.
A Pencil
Don't get caught up with a permanent mark in case you need to make a change. There's a reason for the eraser on it!
A Drill
Using a power drill will make hanging the replacement shed door easier so that you can get your project done quickly and professionally. If you do not have a drill that is ok but using a screwdriver will make your project take longer.
Notebook
When you are making your measurements for the doors it is always important to write down what you find. Having a notebook handy will be very beneficial to record your findings.
A Friend
Doing a project like hanging a replacement shed door will require some additional assistance. Getting a friend you can trust to help hang them up will make you project that much easier. Who knows, maybe you will even have a laugh along the way.
As silly as it may sound once you have your measurements ready, make sure that you place your order for a replacement shed door so that you can do the project you had in mind. You could make your own, but purchasing one from a high quality builder is the best way to ensure best longevity.
How to select the correct replacement shed door size
When preparing to purchase a replacement shed door grab your tape measure, pencil, and notebook. Measure the size of your door frame width and height.
You are going to want to take the narrowest measurement inside the door frame as this diagram shows. Pay attention to whether or not your door has slamming strips and measure appropriately.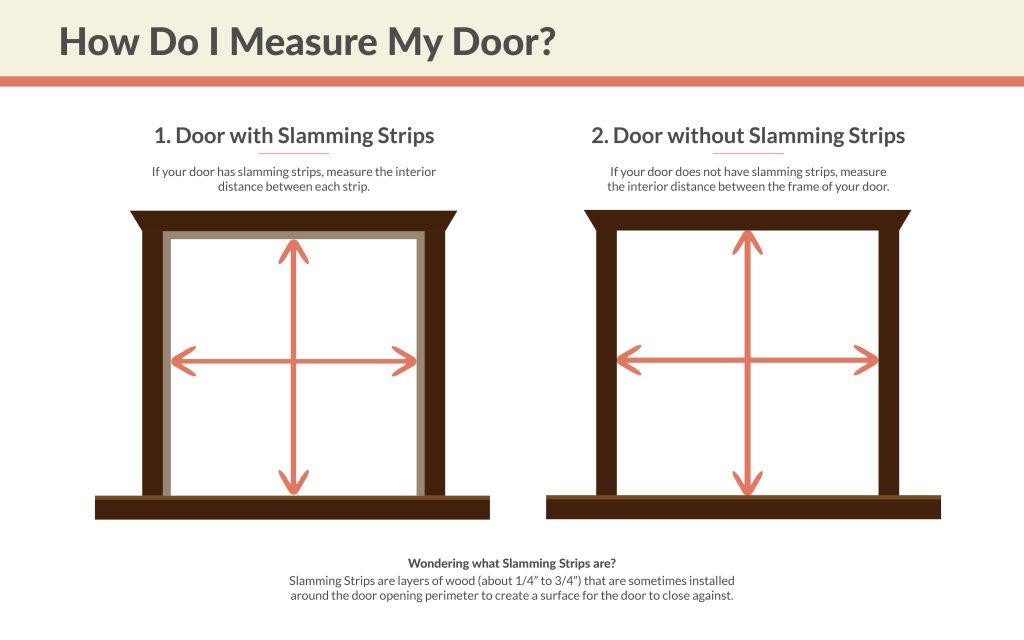 Here are some actual photos of what it looks to get the right measurements.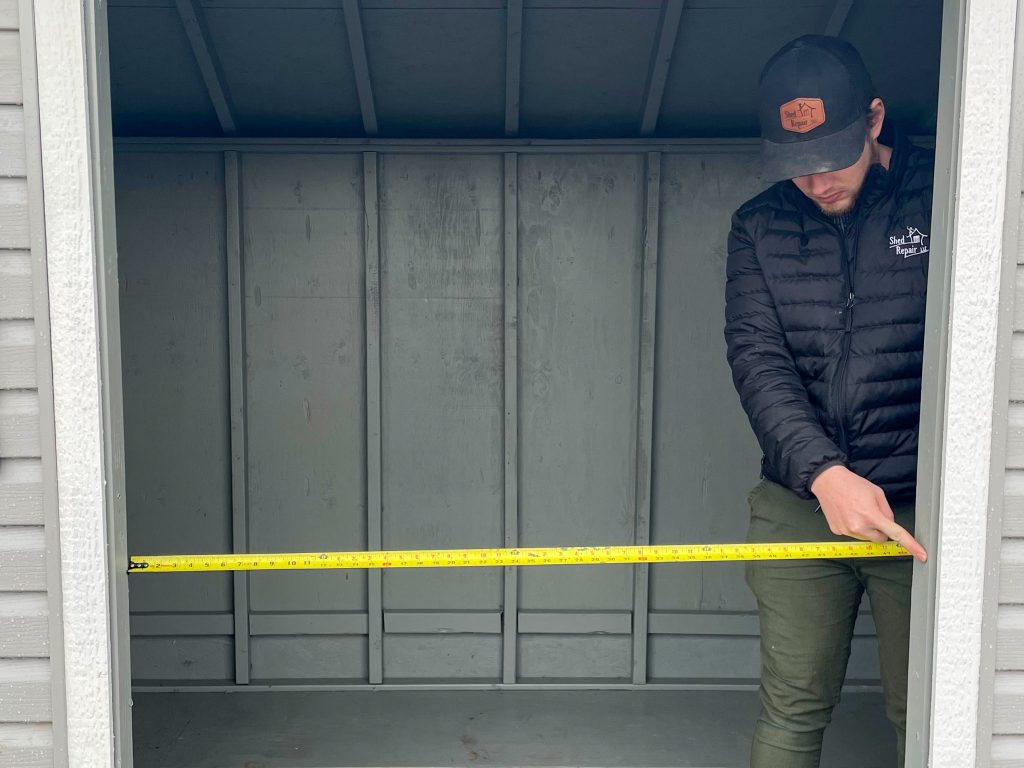 Here we are measuring the width of the door frame.
And here we are measuring the height of the door frame.
This photo demonstrates that you need to be measuring to the narrowest height of the door frame, NOT the trim.
Where can I get a replacement shed door?
You can purchase replacement shed doors from a wide variety of big box stores. However, buying poorly made shed doors is not recommended since that is half the reason your shed door needs replaced to begin with. You could work with a local shed builder or contractor, or check out our wide variety of replacement shed doors right here at Shed Repair. We have everything from basic wooden doors to pre hung fiberglass doors with windows for extra lighting and we also ship our replacement shed doors all over the United States!
How to know what kind of replacement shed door you want
When you are in the position that you have your measurements in place. You are now ready to think about what kind of door style you would like. There are 2 basic options for replacement shed doors: Wooden and Fiberglass.
Wooden Replacement Shed Doors
If you are replacing your wooden shed door because of rot or warping you may be hesitant to replace it with another wooden shed door. There are however, a few basic reasons that you will want to replace your wooden door with another wooden one. 
You need a custom size.  A fiberglass doors are fine as long as the opening will fit the standard sizes for a fiberglass door. But for most people, wood will be the easiest way to replace a wooden door. 

You need a certain look. Purchasing replacement shed doors that are made of wood will allow you to keep the classic look of a wooden shed. Our wide variety of replacement wooden shed doors will allow you to match what you already have or change up the look completely.
Fiberglass Replacement Shed Doors
Fiberglass replacement shed doors are a great way to give your shed an update. Not just by the way it looks, but by the way it provides enhanced security. Fiberglass replacement shed doors give you the ability to put in a residential-style door on your shed. You can get fiberglass replacement doors with or without windows. Just remember that you will need to make sure that
Both of these replacement shed door options give you the opportunity to make right what is wrong with your shed. There is really no wrong choice, just the option of what you would prefer.
Check out our wide range of replacement shed doors in our shop.
Installing Your Shed Door
So you've done everything you need up to this point. You measured the doors of your shed. You selected which door style you would like. Now you are ready to place your order for a replacement shed door.
Once your replacement shed door arrives you are ready to begin the process of hanging the doors. Remember that friend we talked about earlier. It is now time to give them a call (a small thank you gift may be required)!
Now that you have all your tools, your friend to assist you and the door has arrived it is time to get to what you have been wanting to do which is replacing the shed doors.
1. Removal
First begin by taking your fully charged power drill and unscrewing the existing screws. Have your friend hold the door in place so that it does not fall on top of you! Do this at all of the hinge points on the existing shed doors.
2. Install the hinges
To make hanging the door as easy as possible line up your new door hinges where the existing holes had been drilled. Using the Screws that you have fastened to the shed side of the hinge with your drill. Once you do that, measure the proper placement of the hinges on the door and fasten that side of the hinge to the door.
3. Hang the Door
Once the hinges are fastened into place use the help of your friend to lift the door and tap in the hinge pins. Do this for all of the replacement doors that you have purchased.
4. Test it Out
Once your replacement shed doors are in place, open and close it to ensure that they open and close with ease. Make sure that nothing is sticking or jamming so that your door will work well for years to come.
Enjoy the results of a job well done!
You did it! You purchased and hung your replacement shed doors! We would be happy to work with you in the process of getting getting those nasty doors replaced and looking great!
Shed Door Installation In The Northeast
Maybe you get through all of this content and you think: "This is going to be a bit more work than I thought it would be. I really don't want to do the work. I'm retired and all of my family lives pretty far away. How else can I get these shed doors replaced?"
We here at Shed Repair give you the opportunity to have the doors installed if you live in the PA, NJ, NY MD, or DE area. While there is an additional cost to something like this, it is a way to save yourself the extra hassle and work of hanging the doors.